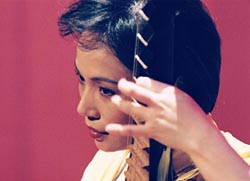 Yang Jing
Pipa Soloist

Yang Jing has developed her distinctive musical character based on studies of the ancient pieces of an ancient culture and the most contemporary music of the world. Her versatility and virtuosity allow her to go beyond the limits of a traditional musician to perform many different styles with different formations.

Ms. Yang studied pipa and composition at the Shanghai Conservatory of Music under pipa professor Ye Xuran; Composition professor Hu Dengdiao and Chinese music theory professor Lin Youren and pipa professor Lin Shicheng and under pipa professor Wang Fandi in Beijing. Her studies with the Japanese composer Mr. Minoru Miki http://www.m-miki.com for several years inspired her interpretation of contemporary music further.

For over twelve years Yang Jing was part of the China National Orchestra of Traditional Music. In 1996, she founded the Chinese female quartet "Qing Mei Jing Yue." Since 1998 "Japan Arts" engages her on a regular basis. She has published several highly acclaimed pipa albums and earned a series of awards for performance as well as for her own compositions:

1989: Gold Medal and the "Highest Artist Certificate of Honor" at the 13th World Youth Festival in Pyongyang, North Korea. 1992: Entry in the "Who's Who in Chinese Arts". 1994: First Prize of the China composition competition with "Dance along the Old Silk Road"

On her concert tours throughout Asia, Europe and North America she performed in venues like the Suntory Hall in Tokyo, the Carnegie Hall in New York, the Barbican Centre in London, the Golden Hall in Vienna and the St. Louis Opera Theatre. Her pipa solo concert tours "Along the Old Silk Road" contain various repertory has been continued hundreds times around the world. 2000 Cities in Japan take her as a "honored citizen" and 1998 Village Concert Hall in the UK named after her.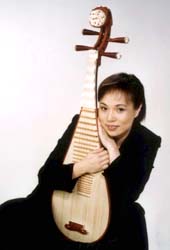 She premiered Miki's "Pipa Concerto" with the Orchestra Asia in 1997. She also premiered its western symphony orchestra version with the Tokyo Metropolitan Symphony Orchestra in 1999 at the Suntory Hall in Tokyo (can see reviews below), and then with the Nagoya Philharmonic Orchestra, Osaka Century Orchestra, Machida Philharmonic Orchestra etc.. At the "Last Night of the BBC Proms" in 1999 she premiered Julian Philips' dedicated pipa concerto "Formal Introductions" with the BBC National Orchestra of Wales.
Her performance in the world premiere of Miki's 7th opera "The Tale of Genji" with the St. Louis Symphony Orchestra by the Opera Theatre of Saint Louis in June 2000 had reviews like "bore much of the musical weight- playing with astonishing facility." (The Washington Post). Maestro Kurt Masur who conducted the premiere of Miki's "Memory of the Earth" expressed his admiration for her skilful part in the piece with the Yomiuri Nippon Symphony Orchestra in the Suntory Hall in Tokyo in November 2000.
"Yang Jing & Yui Ensemble" took part to the fourth Osaka International Chamber Music Festa by Miki's "East Ark", five pieces suite, and received "Folklore Special Prize" in May 2002. Since 1998 Yang Jing had more than thirty solo concerts with Miki's talking covering manywhere in Japan at the Kioi Hall, Oji Hall etc..
What started as an experiment between two apparently very different musicians, Yang Jing and the Swiss drummer Pierre Favre turned out to be a fruitful amalgamation of spirits in music. In the concert tour of autumn 2000 in Beijing and Shanghai and the succeeding album "Moments" (April 2001) Yang Jing proved again that in her music she hardly knows a limit. Her tour with Arnie Lawrence Jazz Band in China and Israel gives her new experiences. And the duet she played with the legend drummer Max Roach for the Jerusalem Music Festival 2001 draw the joyful moments of creating new music for musicians as well as audiences.
Age-old Chinese compositions alternate with present day harmonies in a cycle of ever surprising works. In many solo concerts around the world the audiences deeply impressed by the sounds of her pipa alone – a feat only possible due to her versatility and ingenuity.
For more information please check http://www.yangjingmusic.com/
Press Reviews on Yang Jing
Jim Patricks in Beijing Journal, June 10, 2001
"There is a comforting, hypnotic effect throughout the CD ["Moments", with Swiss drummer Pierre Favre] with the artists experimenting with a freeform approach and an interesting combination of sound and silence. It is a unique collaboration and a unique recording that gets under the skin even of cynics like me."
Li Xing in China Daily, May 4, 2001
"Favre's and Yang's co-operation has set many of the country's musicians to thinking about more spontaneous forms of music."
Mu Qian in China Daily, April 23, 2001
"Most of the award-winners have since become the backbone of Chinese music, such as ... Yang Jing..."
Philip Kennicott in The Washington Post, June 19, 2000
"The plucked sounds of the pipa... give the orchestration not just a superficial 'Asian' sound, but an appealing vibrancy and expressiveness. Indeed, traditional instrumentalist Yang Jing bore much of the musical weight throughout the evening, playing with astonishing facility." (In the review for the opera "the tale of Genji")
Heidi Waleson in The Wall Street Journal, July 5, 2000
"... music played exquisitely ...by Yang Jing was firmly associated with a particular character."
Paul Horsley in The Kansas City Star, June 25, 2000
"A standard orchestra (no less than members of the St. Louis Symphony) accompanied the Opera Theatre's productions, supplemented by extraordinary performances by Yang Jing on the lutelike pipa..."
Minoru Miki in Tokushima News, December 2000
"She played my difficult concerto with not only highly controlled technique but also true musicality. Her solo pieces can be composed only by an excellent performer who knows the instrument very well - I always said that Yang Jing is a genius but now I have to add: she is a miracle!"
The Asahi, February 9, 1999
"... Chinese pipa solo played brilliantly by Ms. Yang Jing in Miki's Pipa Concerto..."
Toru Yuki in Ongaku No Tomo, February 1999
"... I was overwhelmed completely by fascinating Yang Jing's pipa ... her splendid finger technique is dazzling brightness. Its subtle and various tone colours ... create music as it were a rainbow."
Michael Kennedy in The Sunday Telegraph, April 12, 1998
"... Yang Jing on the pipa is indeed a virtuoso of a Heifetz-like quality ... the music was as attractive as it was fascinating in the variety of timbres from this beautiful instrument."
Xie Mei in Music Weekly, August 15, 1997
"Yang Jing has a deep cultural background and an extreme power of understanding music as well as a virtuoso technique. Bursting with creativity she celebrates the coming of a new era in music."
He Shi Bi in China Consumer News, October 17, 1997
"...And there she was, Yang Jing, a slender figure, charming, a gentle and refined appearance, in a white gown with the pipa in her hands - like the pipa fairy.
...As she leads us with her musical poetry... we're galloping in the raging flames of a battlefield, we feel the weight of a metal armour... we're floating in a boat in the 'Water Country' of Jiang Nan or are surrounded by blossoms and the songs of birds like in the garden of heaven - the true Pipa Fairy."
Keith Phybus in The Advertiser Friday, May 29, 1998
"The organiser of Yang Jing's sell-out concert, who could have sold the tickets twice over...Magic is far more than entertainment, it is an art form...Yang Jing conjured from Pipa the sound of snowflakes falling on pine trees, a shower of rain and of pearls dropping into a jade bowl.

...At times she caresses its elegant long neck and others she strikes it...The range of the Pipa is extraordinary, if there were Beatles today this would be their sitar.

To rafter-shaking applause she returned, to demonstrate the ultimate flexibility of the Pipa. Should we believe our ears, or was this more Chinese magic? "
Financial Times, June 21, 2000
" Miki's inventive score converses in authentic Japanese tones ... pipa and koto are constant virtuosic voices in the texture..."

Tamiko Ogura in Ongaku No Tomo, June 2002
"What a excellent mistress Yang Jing is !!I have heard so nice fame of her already, but I didn't expect she will play in such high level.
Yang Jing is a creative Chinese Pipa virtuoso who has super-technique. Her active area is not only in China but also in Japan and in Western countries.
At this concert consisted by special chamber works composed by Minoru Miki, Yang Jing played with Yui Ensemble, a special ensemble for Miki works and this time formed by Vn, Vc, Marimba-percussion.
In case of solo work "Pipa Sounds along the River" which composed after famous Tang period poem and has Yang Jing's own cadenza, I was just like original poet who moved by a ancient pipa player. I was fascinated by Yang Jing's sensible pipa singing, and have enslaved myself to her passionate instrumental reciting.
I was also satisfied by "Alternative Current" with a tsuzumi drumer, and recognized Yang Jing's improvisation is quite criative.
"East Arc" premiered by Pipa,Vn,Vc and Marimba-percussion has five scenes consisted by "Fantagy on Rice Fields", "Pipa Nocturne", "Dancing along the Shoe", "Enka", and "Ancient War". This piece performed successively centering to pipa with, for example, soft strings and marimba's tremolo. They create rich emotion on each tableau. Finally I felt that "East Arc" is a great scale work which left me rich tone images involving poetical sensibility."