Yui Ensemble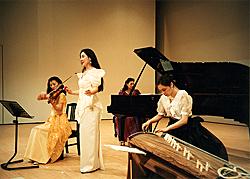 One of playing formation of Yui Ensemble

Minoru Miki
"Yui" refers to the spirit of helping and cooperating with one another. Before appearance of Yui Ensemble, I already composed a series of "Yui" compositions for Western and Japanese instruments.

The Yui Ensemble begun in 1990 in pursuit of compositions and forms with the new breath and depth thought by an international society on the brink of the millennium. As the founder and director of the ensemble, I thought that the Ensemble performs music composed for now universal but originally Western instruments and Western-trained voices of Japan and greater Asia. Ideally the Ensemble will be an environment in which all these instruments converse freely among themselves.

The Ensemble finds its early musical direction in my works. For obvious reasons my works are grounded in my identity as a Japanese but the repertory of the Yui Ensemble should include many different facets from elements culled out of the ancient and multi-racial history of Asia to the techniques Japan has learned from the West over the last hundred-odd years.

Performers of the Yui Ensemble consist mainly of excellent soloists who have cooperated with me in my projects in Japan, Asia, Europe and USA. They take part in each performance according to its aim.

On February 22nd in 1990, the Yui Ensemble debuted in a chamber music concert for Japanese and Western instruments. Various performing opportunities followed. For example:
In 1990 a chamber music concert by Japanese and western instruments; in 1991 performance as the instrumental section for an opera production of An Actor's Revenge; in 1992 recording for 4CDs titled "Four seasons in Japan" issued by King Record Co; in 1993 chamber music concerts by 7 Japanese instrumentalists invited to Hongkong University's 120 year celebration; in 1995 performance as instrumental section for the world premiere of the twin opera The River Sumida / Kusabira; in the Spring of 1996 a concert tour by 4 musicians across Okinawa Island; in 1996 & 97 concert tours in Shikoku and Kansai areas; in 1997 performance of Miki Chamber Works invited to "Shanghai Spring" Music Festival. Between 1998 and 2000 Miki had to concentrate to compose seventh opera ÅgThe Tale of Genji".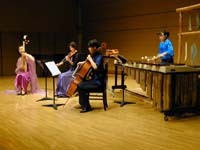 "East Arc"


So the activity of Yui Ensemble started again in 2001 after the premiere of the opera. Miki composed "Heian Music-scope" consisted by opera elements for Yui Trio (Yang Jing/pipa, Reiko Kimura/koto who both played as the soloists in the opera, and Seizan Sakata/shakuhachi) and premiered it in Hiroshima. In that year Miki specially composed 30 minutes "East Arc" for Yui Quartet (so called as "Yang Jing & Yui Ensemble consisted by Kioko Miki/violin, Shinobu Hashimoto/cello, Michiyo Usuki/marimba=percussion). The piece premiered by them at Tsuda Hall in Tokyo on 20 April 2002 as one of Miki's chamber music works (see the phote and a review). Also in May "Yang Jing and Yui Ensemble" took part to No.4 Osaka International Chamber Music Festa playing "East Arc" and got "Folklore Special Prize" selected from 126 international groups.
Yui Trio has invited from Hong Kong and Bali Art Festival in 2002, and performed all Miki program (see the phote in Bali and the flier of Hong Kong) including "Heian Music-scope".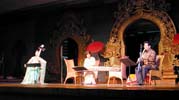 Bali Art Festival in 2002


Hong Kong


Today national(racial) consciousness is increasing extraordinary in everywhere in the world. Conquering unhappy confrontations perceiving mutual characters the Yui Ensemble would sincerely like to go our own way and reach a happy "Yui".